TRANSFORM. EMPOWER. ADVANCE.
UCLA students are ambitious and eager to take on new challenges. The scholarships offered through UCLA Undergraduate Education are both incentives and rewards for students to go beyond traditional coursework to explore their academic interests, their passions, their professional aspirations, and their world. For more information about how you can help, please contact our development office at UEdevelopment@support.ucla.edu or (310) 206-3074.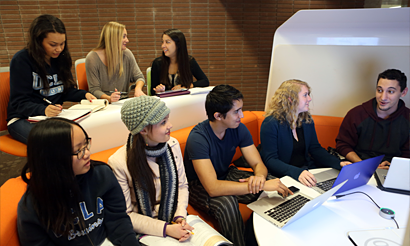 Ensuring Access and Academic Success
UCLA is committed to ensuring access to the most qualified students, regardless of their socioeconomic backgrounds. Through UCLA Undergraduate Education, students have access to a range of programs that promote academic success:
Established in 1971, AAP is the nation's largest university-based diversity program serving 5,600 students historically underserved by higher education, providing personal, academic and financial counseling, and mentoring. AAP also operates the VIP Scholars program, which conducts outreach to historically underrepresented high school students to ready them for admission to competitive four-year colleges like UCLA.


Designed to challenge the university's highest-achieving students, the UCLA Honors programs encourage a love of writing and thinking, interdisciplinary learning, research, team work, leadership, as well as preparation for graduate and professional schools.
Fueling Innovation
UCLA Undergraduate Education spearheads courses and minors that integrate academic disciplines and add an applied dimension to learning.
Undergraduate Education Initiatives

Our innovative undergraduate programs include Freshman Clusters, Engaging Los Angeles, Fiat Lux seminars, and a Disability Studies minor.


This program at UCLA advances a culture of entrepreneurial thinking on campus by connecting students with successful alumni and leaders in the startup world. Students learn the basics of startup thinking in a community in which they can develop and launch their early-stage ideas.
UCLA is the only university in the country with two distinct undergraduate research centers: the Undergraduate Research Center for the Humanities, Arts and Social Sciences and the Undergraduate Research Center for the Sciences. Research opportunities enable students to take full advantage of enrolling at one of the world's top research universities by playing a direct role in creating new knowledge and solving complex problems.